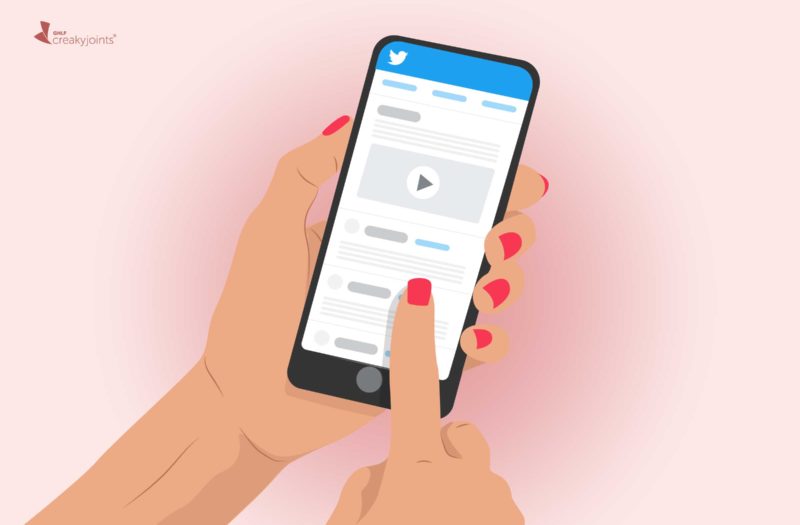 The social media platform Twitter gets its fair share of negative attention when it comes to controversial Tweets, but it also does a lot of good when it comes to uniting disparate communities, particularly in the worlds of chronic illness and disability.
At the European League Against Rheumatism (EULAR) European Rheumatology E-Congress 2020, an international conference of rheumatology research, CreakyJoints co-authored research about how to use the power of Twitter to engage the international arthritis community about the topic of navigating the workplace with arthritis.
Last October, CreakyJoints co-hosted a Twitter chat — an online discussion on Twitter in which a group of participants discusses a certain topic or theme — with Simon Stones, a patient advocate from the United Kingdom (UK) and the Canadian Arthritis Patient Alliance (CAPA). Twitter chats typically use a hashtag to help people discover and follow the conversation; in this case, the hasthtag used was called #ArthritisAtWork.
CAPA partnered with CreakyJoints and Simon Stine with an aim of using the Twitter chat to build on a broader social media campaign developed by EULAR last year. The goal was to foster a community of international patients with arthritis and related conditions to discuss common workplace challenges, effective solutions, and areas of improvement for which participants could continue to advocate.
More than 100 people — from Australia, Canada, Ireland, Spain, the UK and U.S. — engaged in the Twitter chat, which garnered more than 3.3 million impressions. They included those living with arthritis as well as researchers, patient organizations, health information outlets, and academic institutions.
As a co-host of the Twitter chat representing CreakyJoints, I spoke with my fellow co-hosts Simon Stone and Laurie Proulx, of CAPA, to share their thoughts about the power of Twitter, the importance of discussing arthritis in the workplace, and how to get more involved if you're a newbie.
CreakyJoints hosts and co-hosts #CreakyChats Twitter chats regularly. To get more information and be notified about upcoming events, sign up here.
Q: How does leveraging a platform like Twitter engage and unite the international rheumatology patient community? 
Laurie: On a personal level, I find that Twitter has brought me closer to the arthritis community. It's not only patients on Twitter but health care professionals, policy makers, rheumatologists, and researchers. There is an ongoing conversation about arthritis and you just need to find it. It's a great place for learning and seeing what's going on beyond the confines of your immediate community.
Simon: Twitter has been a place where patients can interact and share their thoughts and experiences, not just with other patients, but also with a variety of different trained professionals. In one sense, it has helped to remove some of the hierarchical obstacles which we saw more of in the past and bring a level of equity to people of different backgrounds and experiences. It has certainly been an evolution over time, with a growing presence of different patient advocates raising awareness and increasing the focus on the patient perspective.
Q: What are the benefits of using an international group of patient advocates and organizations when launching a campaign? How do international perspectives enrich the experience and outcome?
Laurie: Bringing in an international group just scales the conversation up very quickly. Suddenly, instead of talking to the people in Canada, there is this much larger conversation almost instantly. You see that there are a lot of commonalities in our experiences too — dealing with flares while working, stigma in the workplace, lack of support from managers and co-workers — but people are also shaped by their culture, laws, and their overall environment. I really noticed this when I attended the EULAR-PARE conference in 2019 and the theme of discussions was the #Time2Work campaign. I shared a lot of similar experiences with people from various European countries but some countries had more support or labor laws in place to offer varying levels of security in the workplace.
Simon: Twitter provides a free and accessible platform for you to reach out to others, and build a community behind a given campaign — after all, that's what a campaign should all be about. Perspective is really important as well. Geography and culture dictate certain experiences, but there is much we can learn from each other's experiences and systems.
Q: Why was doing a campaign around #ArthritisAtWork important to you personally? What have been some of your personal challenges and successes managing arthritis while navigating your job/career?
Laurie: I was diagnosed with juvenile idiopathic arthritis when I was 14 so, whether I like to admit or not, this disease has shaped who I am today. The diagnosis came at a critical time when I was deciding what I was going to do with my life. I was studying the piano quite seriously at the time and it forced me to abandon ambitions of a career in music and led me on a different career path. (I went on to complete a business degree and become a human resources professional.)
One positive element is that this disease made my really focused on seizing the moment as I didn't know what tomorrow would bring. In some ways this is sad but it has a silver lining in that it made me super focused, hard-working, and committed. I hope that one of these days, employers will see these positives and not be concerned about hiring people with chronic conditions like arthritis or people who self-identify as living with a disability.
Simon: Similar to Laurie, I was diagnosed with juvenile idiopathic arthritis as a child (age 3) so I have not known any different than life with ill health, which is largely invisible. My belief has always been that everyone, regardless of their level of ability, should be able to do whatever they want to do in life. Ableism underpins many of the attitudes seen over the years regarding work and those living with ill health: If it doesn't affect me, and if I can't see it, then we'll carry on the way we've always done things.
Arthritis should not stop people from being able to work. It may prompt people to re-evaluate the kind of work they want to do, but it should never stop people from working or doing the kind of work that they want to, either. That's why the #ArthritisAtWork campaign is so important.
So far, I have been quite lucky with the support that I have received; however, some of the challenges I have experienced often stem from the nature of existing systems set up with an ableist lens, with a workplace or educational setting designed for "healthy" folks. The help comes when employers and educational institutions listen to each individual and tailor support to them so that they can achieve their goals and be able to complete their work to the best of their abilities. These are often phrased "reasonable adjustments," a term that I don't particularly like. This is because these shouldn't be adjustments; these should be the norm.
COVID-19 has shown us that many more people are able to work from home or work flexibly than employers had previously thought, which would mean the difference between working or not working for many people with ill health. If workplaces become more flexible and inclusive of their approaches to working, then this is going to be beneficial to everyone.
Q: What insights did you learn from your campaign and Twitter chat that have since helped you in your patient advocacy work?
Laurie: It has been really amazing working with you and Simon. It reminds me that collaborating together toward a common goal can actually be quite easy when working with the right team. It gives me hope that bigger and better things will come to us as a community when we commit to this way of working.
Simon: Learning from other people taking part in the Twitter chat is always a refreshing experience. People bring their knowledge and skills to help each other, which is the whole point of such activities. Identifying good practices and learning how to implement changes in different settings are valuable learning to take away. Being able to learn from, and work with you and Laurie, who together have a wealth of experience in the area, is also one of the great things to experience within our community.
Q: For arthritis/rheumatology patients who are not yet very active on Twitter, what would you say to them about how becoming more involved could help them find support and manage their condition?
Laurie: I recommend starting off slow and follow patient groups, like CreakyJoints (@CreakyJoints) and CAPA (@CAPA_Arthritis). There is no pressure to contribute and you can just sit back, relax, and follow the conversation. You might be surprised by easily you can relate to the conversations. It's hard to explain some of the day-to-day challenges we have to people who don't live with arthritis. On Twitter, you'll find that these conversations are happening without the pretense we put on in our daily lives.
Simon: Go forward at your own pace. Contrary to what you may see in the media, Twitter is a really useful platform for you to observe, listen, speak, and discuss. Control always starts and ends with you —engage as much or as little as you want. It's also fine to close the app and have some time away if things get too much as well. Conversations from passionate individuals can sometimes get heated, but not half as much as you may think. 280 characters isn't much space for people to articulate their thoughts, so it's good to be aware that a Twitter tone may not reflect the real-life tone. I know some people struggle with that, but I always keep this at the forefront of my mind. Follow trusted individuals and organizations from your network, and look out for opportunities for you to get your voice heard, if you wish to do so. Attending Twitter chats, replying to posts, and re-tweeting tweets are just some of the ways you can begin to increase your presence.
Join CreakyJoints Canada
For people who live with chronic illness, having a community that cares and advocates for your needs can be helpful. Join CreakyJoints Canada.