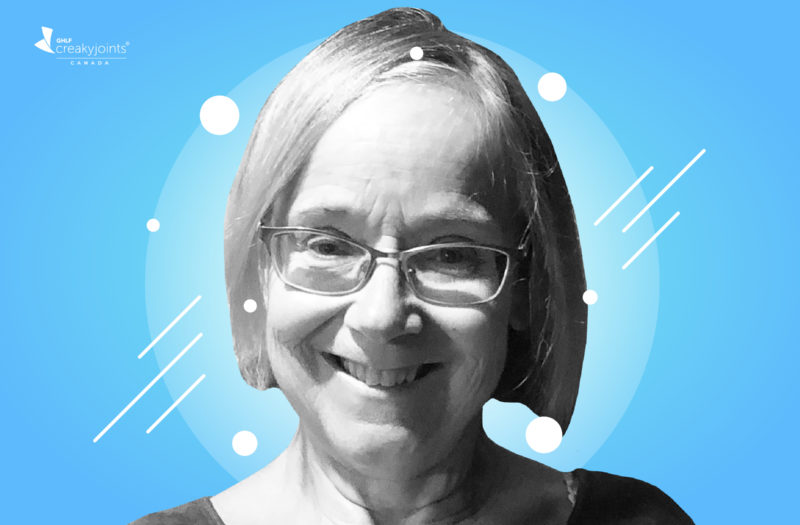 As part of its mission to inspire, empower, and support arthritis patients and their caregivers, CreakyJoints Canada is highlighting advocates who are making a difference in the Canadian arthritis patient community.
If you have arthritis and treat it with biologic medication, you have Linda Wilhelm in part to thank. Linda, who is President of the Canadian Arthritis Patient Alliance (CAPA), was an early advocate for increasing access to these life-changing therapies. Here's her fascinating backstory, and what she wants newly diagnosed patients to know about raising your voice, being heard, and getting involved.
A Rough Beginning
In 1983, I was diagnosed with rheumatoid arthritis (RA). I knew nothing at all about the disease and had a really hard time navigating the ins and outs of my care. My only major interaction with the health care system up to that point had been during pregnancy and childbirth. It took a long time to get a diagnosis, in part because at the time, doctors didn't yet understand rheumatoid arthritis very well. It was difficult to find a physician who knew much about my condition.
Unlike osteoarthritis, the most common type — which is caused by the cartilage in a joint breaking down over time, causing pain and stiffness — inflammatory and autoimmune forms of arthritis like RA occur because of an overactive immune system. My body was attacking my own joints, causing me a lot of pain.
I was pregnant with my second child when I received my diagnosis. After the baby was born, I was nursing, so I didn't want to take meds. Instead, a physiotherapist came to my home and worked with me. Once my baby was weaned, I was prescribed high doses of Entrophen, an anti-inflammatory medication. I went into remission after about a year but had already sustained significant joint damage to my ankle and elbow.
I fumbled my way through the system for the next 10 years. We moved from British Columbia to the east coast of Canada, and I had another baby, after which I ended up in very bad shape. My RA was aggressive and severe at this point. My medications would work only for a while and then stop, and I'd have to switch to another. I cycled through various meds for about seven or eight years, going from one to the next.
Finally, in 1999, I reached the end of my treatment choices: I had tried all the drugs available to me. I ended up in the hospital for three months, unable to walk. With three kids at home ranging from ages 12 to 17, I was at the end of my rope. I couldn't do it anymore.
Learning the Power of Speaking Up
Biologics — medications that target the immune system overactivity driving inflammation in rheumatoid arthritis — had recently come on the market for the first time, but reviewing new drugs was a slow process in Canada then, and so our system was backlogged. They were approved in the U.S. a couple of years before they came to us. It was frustrating to know there was a drug out there that could help patients like me — but I couldn't access it.
When the biologic etanercept (Enbrel) was first approved in the U.S. back in the late nineties, a representative running for election in my area came to my door. I asked her about the new drug. Why wasn't it available in Canada?
Her answer was very patronizing. She patted me on the shoulder and said, "You know, it's quite complicated how new drugs get approved." She assumed I didn't understand the process. This was a different era — when the internet was new, there was no social media, and patients were not as engaged or united as a community. The interaction made me angry. I decided to start learning everything I could.
After a lot of phone calls, self-advocacy, and meetings with some politicians, I was able to get special authorization to receive the biologic. It only took two days before I felt it start working. It was absolutely transformative. Within a week I walked out of the hospital. It was that dramatic.
I went from 15 years of no treatments working to starting to think I might get my life back.
Six months later I had to fight with my husband's insurance company. At that time, these were among the most expensive drugs that had ever been available. They were $25,000 dollars a year. I managed to get my husband's insurance company to pick it up, but only because their policy was due for renewal. My husband's human resources department went to bat for me and said, "Look, if you don't cover it, we're going to switch our policy to another." And that worked.
But still, I had guilt about the fact that I was getting life-changing treatment that I knew others desperately needed but couldn't access.
Widening the Reach of Arthritis Patient Advocacy
Soon I connected with the Arthritis Society, a national health charity. They had a visionary CEO who really understood that if we were going to get biologics covered in a public health care system, those of us with severe deformities and damage were going to have to be out front to fight for it.
We needed people to understand what we were up against. I was a 40-year-old woman who'd had 14 surgeries to replace or fuse joints. I knew what a disease like rheumatoid arthritis could do, and I knew these therapies could prevent this from happening to someone else. For me to say, "You need to cover this drug," would have a bigger impact than the message would coming someone who wasn't dealing with it firsthand.
So the Arthritis Society formed a patient advocacy alliance, the Canadian Arthritis Patient Alliance (CAPA). I was one of the founding members of the steering committee. We would mentor and teach other people, and by 2003, we had helped get biologics to all 10 provinces in Canada. A couple of years later, we had grown a lot and decided to become an independent organization.
Amplifying the Patient Voice
CAPA is a small, volunteer-led organization run by people living with inflammatory arthritis. Most of our work is done through collaboration and partnerships so that we can add a little punch to our passion. For example, we are a member of an organization called the Best Medicines Coalition, an alliance of national or regional patient organizations who take on the drug issues and concerns around access to medications and Canada on a national policy level.
We also partner with other patient organizations such as the Canadian Psoriasis Network, the Canadian Skin Patient Alliance, the Canadian Spondylitis Association — and now, with CreakyJoints Canada. It helps to have that network when you're building resources. We share opportunities for patients to get involved and get their voices heard.
Looking Ahead
My hope for Canadians is that they'll become more engaged in health care policy decision-making in the future. We have a public health care system in Canada, and people think it's free and so we should just be grateful for it. But we pay for it with our taxes. A lot of our money goes toward that service. And we deserve to have a say in how those dollars are spent. I hope patients will get embedded in patient advocacy organizations to be able to give their perspectives and identify best practices and the way things can be done better.
Right now we also have a human resources issue with rheumatology in Canada. There's a shortage of rheumatologists and patients are waiting far too long to be seen. I've been working with researchers on models of care for inflammatory arthritis, where ideally you would be referred fairly quickly, be diagnosed, start medication within three months, and be in remission within six months.
That may sound overly optimistic, but I already see signs we're moving in that direction. At my last visit with a surgeon for a follow-up appointment, we were going over my hips, knees, shoulders, and elbow replacement, and my cervical spine, ankle, and wrist fusions, and he told me he doesn't see very many people with inflammatory arthritis anymore because of biologic medications. Because these therapies control symptoms and prevent disease progression, newly diagnosed patients won't likely experience the same joint damage and surgeries I've had.
That's my dream: That every patient with arthritis would achieve remission and avoid the disabilities and surgeries that I endured and instead be able to live a normal life.
How You Can Get Involved
We all began somewhere. I do a lot of mentoring of new arthritis patients who want to come forward and try advocacy work. You can connect with patient organizations like CAPA and CreakyJoints and do just that. Here's how:
Learn as much as you can. Find out as much as you can about your disease: What treatments are available? What can your health care system deliver? What needs to be improved?
Get involved in research. There are a lot of opportunities for patients to engage in research. Sign up for health care discussions and focus groups — most province governments have these now or are beginning to explore initiatives for the future. (Here's an example from New Brunswick.) You can also find organizations serving all of Canada, such as Arthritis Research Canada or the Canadian Agency for Drugs and Technologies in Health.
Tell your story. Share your experiences about both the troubles and the triumphs you've had. Give others the opportunity to see themselves in you. And talk to elected officials. Write letters. Let them know what your priorities are and push for change. CAPA has templates and suggested talking points you can download.
Join the CreakyJoints Community
For people who live with chronic illness, having a community that cares and advocates for your needs can be helpful. Learn more about and get involved with CreakyJoints Canada.