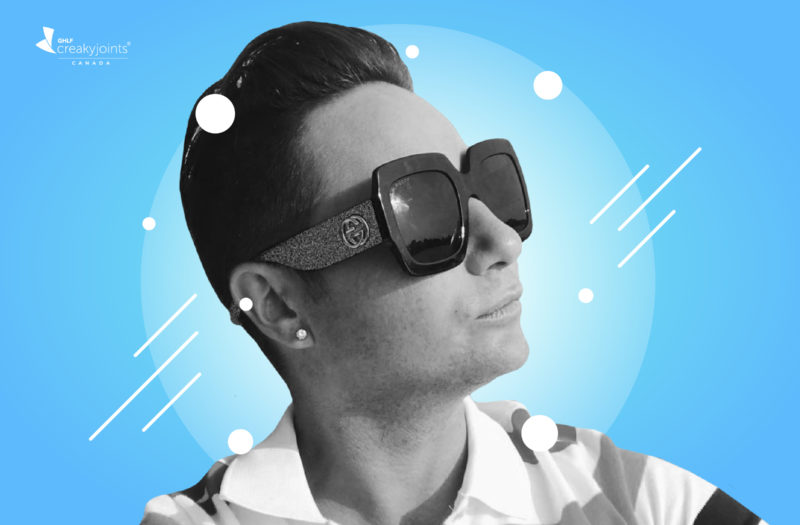 For the past five years, Tumbler and Tipsy fashion designer Michael Kuluva, who lives with rheumatoid arthritis (RA), had been splitting his time between Los Angeles and the Greater Toronto area. That all changed when COVID-19 started to spread across North America last winter and he decided to bunker down in Barrie, Ontario with his Canadian partner.
Michael has been an outspoken patient advocate on the challenges of managing a chronic inflammatory disease like rheumatoid arthritis, using his fashion line and annual shows at New York Fashion Week to help others understand what it's like to live with a debilitating form of arthritis, especially when diagnosed at a young age.
Michael, now 37, was just 28 when he got his RA diagnosis while he was a student at the Fashion Institute of Design and Merchandising in Los Angeles.
At first Michael — a former professional figure skater — didn't want to draw a lot of attention to his rheumatoid arthritis, as he was about to graduate design school and launch his first big Tumbler and Tipsy collection. He didn't want anyone to think that his RA would limit him or prevent him from succeeding. But then he realized he could use the platform of his New York Fashion Week show for good, by designing a special collection that used bursts of color on clothing to pinpoint the painful areas affected by rheumatoid arthritis. Ever since that show in 2016, which was supported by CreakyJoints, Michael has become an integral part of the chronic illness patient advocacy community.
Even in 2020, Michael didn't let the pandemic stop him from his using his fashion to advance his advocacy work. Last fall, when New York Fashion Week shows were cancelled, Michael presented a pandemic-safe virtual fashion show event from his home in Barrie, Ontario, partnering with CreakyJoints and the Canadian Arthritis Patient Alliance (CAPA).
Michael's show helped tell the story of how patients with chronic illness were coping with painsomnia and loneliness during the pandemic, showing the importance of finding community for support.
Now that Michael has been living in Ontario full-time for more than a year, we caught up with him to see how he's been faring during the pandemic, adjusting to cold Canadian winters, and getting involved with local advocacy issues to support people with chronic health conditions in Ontario and beyond.
Navigating the Pandemic with a Chronic Illness
As someone who is immunocompromised because of his rheumatoid arthritis and the medications he takes to treat it, Michael says that he cannot take any risks when it comes to COVID-19 exposure. "I also have to be very careful and diligent with whom I am around plus sanitizing as much as possible. I can't take many risks," he says.
Michael looks forward to getting vaccinated against COVID-19 as soon as he can, in part because he is concerned about the rise and spread of new coronavirus variants.
In addition to staying safe and avoiding COVID-19 infection, the pandemic has brought up other health care challenges and adjustments for people managing chronic conditions, like switching to telehealth and handling delays in treatment. On top of this, Michael has had to learn to navigate the Canadian health care system, which he notes has some similarities and some differences to the United States. Michael has become a permanent resident of Canada, which allows him to qualify for the Ontario Health Insurance Plan.
The rise of telehealth has afforded people the ability to see doctors who do not live close to them, which has benefited Michael, who has been seeing doctors both in Canada and in the United States during the pandemic. This includes the U.S. rheumatologist he has been seeing for over 10 years. "I really want him to still stay in the loop, especially when I have to go back to the U.S.," Michael says. Michael also sees a rheumatologist in person in Ontario. While Michael gets adjusted to his rheumatologist in Canada, he appreciates having his longtime rheumatologist having "an extra ear on everything."
For the most part, Michael finds that his two rheumatologists give similar advice and, importantly, they communicate with each other. "They both keep each other in the loop on my conditions and what we speak about during our follow-up consultations, so I feel we are all on the same page," he says. When there may be differences in opinion about his care, Michael turns to the people close to him. "If there is a disagreement, it is ultimately up to myself and my family to make those hard decisions," Michael says.
Adjusting to the Cold
Once it is safe to do so, Michael and his partner plan to resume splitting time between the United States California and Canada. One of these reasons is due to the cold, long winters in Ontario. "It's very wearing on you mentally and physically," Michael says. "I've been trying to keep up my workouts and keep my body and mind stimulated and busy. So far, it's working."
Being inside often due to both the cold and having to shield from COVID-19 has been a challenge, though. "I think not seeing the sunshine on top of having aches and pains can put your mental health into a slump," Michael says.
For Michael, it has helped him to have a daily routine to help keep him cope with the cold. "That really has gotten me through the pandemic, and it's almost like the winter is the pandemic," Michael said. "We're just still hunkered down. I work out at home, so that makes it a little bit better."
Michael also leans into work and self-care to keep himself busy and happy. "I find my own 'happy places,' such as watching my favorite movie or television show, playing with my dog, or even getting creative with my fashion designs," he says.
A Challenge with Maintaining Arthritis Treatment
When he was living in the United States, Michael was taking the arthritis medication tofacitinib (Xeljanz), which is considered a type of disease-modifying antirheumatic drug (DMARD) known as a JAK inhibitor. It was mostly working well to control his RA, but he had to advocate all over again to get approved to take the medication in Canada.
"In Canada, like in the United States, you have to fail so many medications to get to the right one," Michael says, noting that he because he already had the trial and error of a few medications in the U.S., which was documented with his rheumatologist, he was ultimately able to get access to the medication.
The Importance of Advocacy
A longtime patient advocate with CreakyJoints, when Michael had the opportunity to get involved with the Canadian Arthritis Patient Alliance (CAPA) after he moved to Ontario, he says he was "more than thrilled to be a part of a great patient advocacy group in Canada." Michael was already connected with some advocates through social media platforms like Twitter and Instagram, which was a bonus.
"I knew of some of the members from social media, but now being a part of such an important group, you can see all the hard work and dedication that goes into the arthritis community behind the scenes," he says.
From advocating for health care needs for disabled people to the push for more accessibility in cities, Michael has seen the important work that advocacy groups and activists continue to do in Canada at a provincial level. A lot of work, Michael says, people do on a volunteer basis. "It's their passion to advocate for arthritis and arthritis awareness and to get better laws established for people with disabilities," Michael says.
One area where advocates are fighting for change is to improve accessibility in cities like Toronto. "There's not enough accessibility in daily life for people. There isn't enough thought for people who need a ramp or an elevator, or just enough space on the sidewalk," Michael says.
While Michael recognizes the importance of the work that different advocacy groups are doing in each province, he believes that when nationally focused organizations like CreakyJoints and CAPA work together, they enhance everyone's ability to support patients. "Canada really needs an organization that can bring it all together under one roof," Michael said. "This is something that Canada really needs and something that patients deserve."
For people who live with chronic illness, having a community that cares and advocates for your needs can be helpful. Join CreakyJoints Canada.